Hersónisos Limin (GR: Λιμήν Χερσονήσου, transliterated also Chersónissos) is located 26 km east of
Iraklion
town on the road to
Agios Nikolaos
.
Regular public transportation is available for visiting Hersonissos, departing from Heraklion and Agios Nikolaos.
The majority of visitors come to Hersonissos via the Iraklion international airport (N.Kazantzakis airport).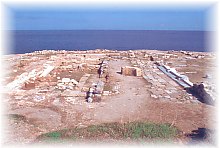 History & Sights
It keeps the name of the ancient city that was located in the place that the harbour of Hersonisos is today. The village of Old Hersonisos, located within a small distance to the south was built due to the fear of the pirates, that forced the inhabitants of the village to move in the inland.
Near Old Hersonissos there are two picturesque small villages, Piskopiano and Koutouloufari, overlooking the busy resort of Limin Hersonissos.
Facilities
There is a variety of modern hotel installations and apartments providing every comfort and offering a wide price range to suite every pocket.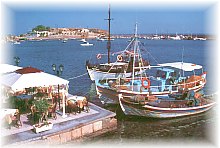 The harbour of Hersonissos is famous for its night life as there are many bars, restaurants and tavernas next to the beach.
At the neighbouring villages a number of small hotels and apartments offer quiet and peaceful environment for family vacation.
The visitor to the area of Hersonissos will find a large number of shops with jewels, furs, clothing etc. and of course many places to rent cars or bikes.
Daily cruises are also organised by various travel agents, to the neighbouring island of DIA and many other small islets and beaches in the area.
Beaches
There is a wonderful, sandy beach all along the coast, while a number of lovely small coves can be found both to the west at the area of Anissaras as well as to the east near Stalis (Stalida).