Káto Goúves (GR: Κάτω Γούβες or simply Gouves) is a modern tourist resort of about 1200 inhabitants, with a complete tourist infrastructure to meet all demands. It is located 19kms east from Heraklion and 15 kms from Iraklion airport. Regular public bus service connect Gouves to
Heraklion
,
Malia
and
Hersonissos
.
Tourist Facilities
In recent years, the tourist development has been very marked in this area, due on the one hand to its wonderful beaches, and, on the other hand, to its vicinity to Heraklion to the west and Hersonissos a few kilometres to the east.
Organised beaches, large modern hotels, family apartments, restaurants, small tavernas, recreation centres, sports centre, shops, car and motorbikes for rent, small ports (marinas) for small boats, in a word they provide everything our visitors require to spend an agreeable and carefree holiday, enjoying the sunshine by day and the thrilling night-life in the numerous bars in the area.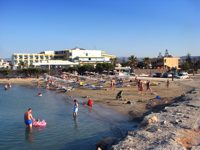 The Beaches
The sea, all along Gouves coast and the wider area between the rivers Pordia and Aposelemi, is sandy and shallow and is ideal for family holidays as it is particularly safe for children to enjoy themselves without the need of close parental supervision. There are many small ports marinas and piers along the beach that protect from the north winds, allowing for a safe swim.
History
A big settlement of the Late Minoan period has been located at
Vlychada
, and is partly excavated by the archeologist D. Vallianou at the seashore of Gouves tourist resort. It is extended onto a rocky platform 7m above sea level and covers an area of 400m to the south.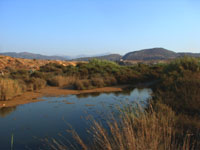 Environment
A little to the east of the town of Kato Gouves, the outfall of Aposselemis river, forms a lagoon, that is a very important stopping - place for migratory birds and habitat for species both of the local fauna and flora.
The Area
At a short distance inland you can escape the lively racket of tourist life and find peace and quiet in a traditional setting. Picturesque villages, important monuments, lovely monasteries like the one of "Kyra Eleousa" and "Theologos", mysterious caves like "Ilithia" and the one of Skotino at Aghia Paraskevi, the pretty chapels strewn all over the beautiful Cretan landscape will remain in your mind and in your heart long after your holidays are over.
If you are on your way to Lassithi, a ride through this lovely region will increase your enjoyment.