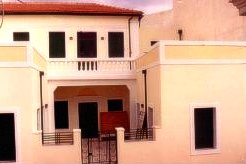 The Folklore Museum of Sitia was founded in 1975 by the educational and cultural association
"Vintsenzos Kornaros"
.
It contains many important folklore exhibits, mainly handwoven materials, embroideries, local costumes, furniture:
Embroideries
It includes linen table clothes, cotton handmade pillows, bedcovers and clothes. Handwoven drapes with images of ancient gods and semi gods like Eros , Aphrodite and Pan. Cotton linen and silk towels, woven and adorned with various patterns.
Woven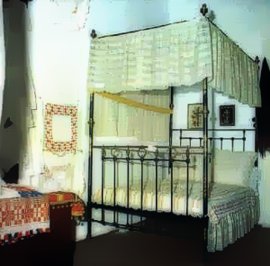 A large variety of woven products like carpets, rugs, carrying bags, cloaks.
Furniture
Various handmade furniture including the iron bed pictured on the top of this page, wooden cases for storing clothes and produce, a children's rocking bed. Most wooden furniture on display, is also hand carved with various motifs, and pictures from the cretan history.
Handiworks
A variety of hand made and polished mirrors, various small boxes for every day use like a newspaper rack, a toiletries box etc., Also some clocks in hand carved cases, pictures frames constructed from wood and decorated with silk.
Costumes
Some costumes are on display, depicting the typical dressing of the locals in older times. This include the clothes worn by a typical farmer, a typical dress worn by a lady at the beginning of the century, etc.
Kitchen ware
Various cooking utensils and equipment, like irons, rock and mills for grinding coffee, and flour, lamp stands, iron pots and pans.
Pots
Ceramic pans , pots and plates, water carafes, flower vases, glasses.
Icons
Some old Christian icons are also on display.
Loom room
A complete loom with all its parts, on working condition, is on display. Here the visitor can examine the whole process of weaving. The loom is currently used by the museum staff, to produce artifacts on sale in the museum shop.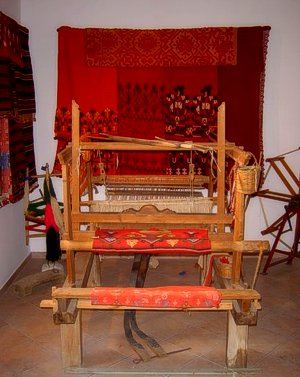 Loom




Useful Information

Address : 28, Kapetan Sifi Str., 72300 Sitia