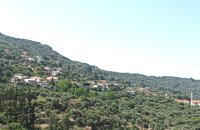 Α principal village located at 280m a.sl., on the main road to the southern coast, 47km from Hania and 22km from Kastelli with 370 inhabitants. There are a post Office and police station, workshops, olive press, wheat mill etc. The village lies at the entrance of the gorge of Topolia and 27 km away is the monastery of Chrissoskalitissa.
The gorge is lush with plane-trees, wild olive trees, flowers, and bushes. Its walls are 300m high, and the width in some cases is 5m only. Through the gorge flows the river Tiflos.
A little after the village, there is a well maintained footpath on the mountain side which reaches the Agia Sophia Cave at 285m a.s.l. The cave is of great scientific interest, has a diameter of 70m and it is 20m high. There are marvelous stalagmites and stalactites of various shapes.
At the left end there is a small church with an icon that, as tradition says, came from Constantinople, and has been wedged in a rock. In the cave were discovered many finds from neolithic era.
Two patron feasts are taking place there each year: One on Tuesday after Easter and a second on December 24, when the birth of Jesus is represented.