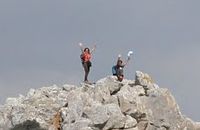 The mountaineering and skiing club of Iraklion, was established in 1940 and is a member of the association of mountaineering clubs of Greece. Today the club has over 200 active members. The activities of the club include mountain climbing , cross country walking, skiing. Almost every weekend, the club organizes excursions to various locations in Crete, that attract a lot of followers from outside the club.The difficulty of these excursions varies , from extremely easy (i.e. 3-4 hours walk through fairly passable footpaths) to very hard (i.e. climbing to the top of Psiloritis at 2.500 meters).
The club is also maintaining , together with the other mountaineering associations of Crete, the Cretan part of the European mountaineering footpath E4. This is a path that starts from Portugal (!!) and ends to Kato Zakros in Crete.
Finally the club maintains its
own shelter
in the area of Asites close to Iraklion . The shelter is available to all who want to visit it , provided proper arrangements are made with the club, since it has limited bedding facilities.
Address:53, Dikaiosinis Str., 71201 Heraklion
Telephone: (+30) 2810 227 609 (from 20:30 to 22:30, Monday-Friday)
E-mail: eos@eos-her.gr
Website:
www.eos-her.gr
Photo Album:
Picassa