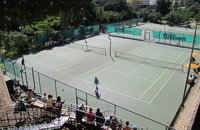 The Club was founded in 1928 by Stelios and Stefanos Perdikojiannis, Meletis Kokkinakis, and Nikos Pandelakis. Until 1940 it was operating as an independent part of the Union of Athletic Associations of Iraklion, having Mr George Voiolas as president.
In 1946 it became an independent club under the name "Tennis Organization of Iraklion" , commonly "TENNIS", with department of tennis and table tennis. Later in 1968 two more departments were added, basketball and volleyball, and finally the department of chess in 1978.
In 1975 the club was renamed to "Iraklion Sports Club".
Today the most active departments are: Basketball, Tennis, Table tennis, Chess.
Links:
Official Site