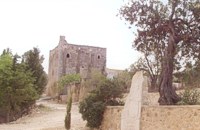 The monastery of Odigitria is a monastery of great importance and historical value and one of the oldest in Crete. It is located at the west edge of the Asterousia mountains at an altitude of 250 m.
The monastery was surrounded by walls, part of them still stands. The temple of the monastery is dedicated to the assumption of Holly-Mother and to the Saint Apostles (Peter & Paul). Inside the temple there are valuable frescoes, icons of famous painters and iconostasis.
The monastery is connected with the legendary freedom fighter 'Ksopateras' (1788 - 1828)
In the area of the monastery at Agioi Eftihianoi was found an ancient (Early Minoan) cemetery.