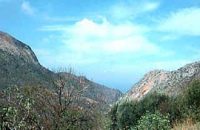 Near the beautiful village of Vrahasi there is the imposing gorge of Selinari, formed by the mountain of Anavlohos (625 m) to the north and the mountain Fonias o Detis (818 m) to the south. The symbol of Crete, the Cretan wild goat (Agrimi or kri-kri) and the Griffon Vulture are two rare species that used to reside in the gorge. The authorities in Vrahasi intend to establish a center of protection of the local fauna and flora at the gorge of Selinari and to develop a wildlife station, to provide observation of the Griffon Vulture colony at the east side of the gorge of Selinari. The hunting is forbidden in an area covering 10 sq.km. around the gorge.


Agrimi or Kri-Kri is a rare kind of wild goat, that survives since the Minoan ages and still lives free only in the mountains of Crete. Homer mentions that this proud and untamed animal lives at places where no man can go.


The Griffon Vulture colony of Selinari roosts and breads on southeast facing cliffs immediately above the small bridge on the "old road". The colony is around 35 birds.
The breeding cycle begins in January with the first chicks flying from the nests in late June. The chicks continue to be fed by the adults at the nest for at least a further six weeks after the first flight. This means that there is considerable all day activities on the nests during the months of March through to and including August.
In the remaining months activity is at its highest as the birds return to roost in the afternoon which is very exciting to watch.