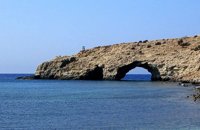 The only inhabited island of Crete with approx. 40 permanent residents. There are some nice beaches with fine sand, a few rooms and apartments to rent and some taverns. Apart from the harbor Karave, there are three village on the islet, Kastri (the capital), Vatsiana and Ambelos. The landmark of Gavdos is the Light House built in 1880.
According to Callimachus, this is the ancient isle of Ogygia where, as Homer claims in "Odyssey", the nymph Calypso lived.
Distance from Sfakia 22 nautical miles and from Paleohora 32 n.miles.
Ferry connection from Sfakia (Tel. 28250 91292) and Paleohora (Tel. 28230 41214).
Gavdos island video (Youtube)