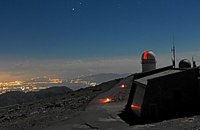 Located at the top (1750m) of Skinakas mountain of Idi (Ida) mounatin range, 60km from Heraklion. There are two telescopes and modern equipment and facilities both for research and educational activities in astronomy. It is a department of the University of Crete. Skinakas observatory offers a number of open days each year.
This gives the opportunity to visitors to be introduced to the operation of the observatory, to get informed about the latest achievements in Astrophysics and to observe through the telescope.
Open days for the year 2012:
August 26
September 23
During the open days the Observatory facilities can be visited from 17:00 to 23:00. Due to low temperatures at the Skinakas altitude, warm clothes are highly recommended. The visitors will have the opportunity to be guided through the Observatory's infrastructure and follow a related presentation. The road to Skinakas Observatory is very narrow. Accident may occur and the space is limited on the top. For the reasons above, buses are not allowed (advised) to visit the Observatory during open days.
Website :
http://skinakas.physics.uoc.gr/