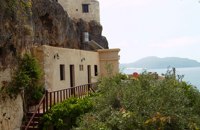 The Monastery of Kapsa is located 40 km from the town of Sitia at the exit of the Pervolakia Gorge built against the steep rocks overlooking the Libyan sea. The exact time of the foundation of the monastery is still unknown, while some believe that it was in the 15th century. Until 1841 there were only a small chapel dedicated to the Saint John the Baptist and a few cells.
The glorious period of the monastery is connected with the activities of a crook of the time named "GERONTOYANNIS" (Yannis Vitsentzos). He had been using the monastery as a hideout when he believed that he could make money by curing people! It was rumoured that he had Divine visions and with the help of the God he was able to cure the pilgrims (only the really faithfull) of any illness.
A large number of people started then visiting the monastery, bringing lots of gifts and Gerontoyannis spent a lot of them to built new cells and a second chapel dedicated this time to the Holly Trinity. A renowned craftsman of the time, Hatzi Minas, made the splendid wooden temples (1869) and Antonis Alexandridis made the beautiful icons (1870).
Gerontoyannis died in 1874 at the age of 75. His grandson Iosif many years later came to the monastery to continue his grandfather's work. He added some new cells, brought running water to the monastery and cultivated the surrounding gardens.
The monastery celebrates every year in August 29, name day of Saint John.