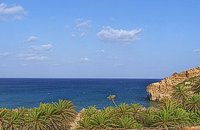 A palm tree forest stretching on a marvelous valley and sandy beach. It consists of self planted palm trees of Theophrastus (Phoenix Theophrasti). It is unique of its kind in Greece, Europe and probably the world. Vai because of its special value and beauty is protected by the Greek state, European Union and international contracts. The protected area covers 23.4 ha.
The sandy beach of Vai is amongst the most beautiful in Crete and Greece and attracts thousands of visitors every year since Vai is a top destinations especially for the new comers.
The small islets opposite the beach add a lot to the beauty of the place.
There is a parking area, a tavern, a canteen, umbrellas and seabeds.
There is regular public bus connection with the towns of Sitia and Palaikastro during the summer and many organised day trips by travel agencies.
If you don't like crowds, you can walk a little to the south from Vai to Psili Ammos a lovely small beach with fine gold sand which is nested in a small cove.