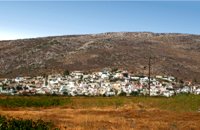 The hilly village of Ziros (GR: Ζήρος) spreads over the lower slopes that the locals call Egremno (the Cliff) at an alti-tude of 590 m. at the pictureque Armeni-Handras plateau.
The village is the seat of the Municipality of Lefki.
The village was first recorded as Siros in 1577 in the Venetian Barozzi's catalogue of the villages of Sitia. In a census carried out by the P. Castrofilaka it was listed under the same name in 1583, with a population of 448. In 1928 with the first census after the union of Crete with Greece, the population was 742. Today the population of the village is approx. 742 but diminishing.
The Ziros community includes the villages of Kalo Horio, Hametoulo, the coastal settlement of Xerokampos, the deserted Lamnoni and some settlements inhabited seasonally like Agrilia, Lethi, Achladias, Makri Livadi and Anargyros.
The Ziros area has many antiquities from all periods, however no methodical excavations have yet occured. Ancient sited can be found at Plakospilios (roman settlement and tombs), St. John (an Archaic set-tlement), Fonias (a Minoan settlement), Stalos (Minoan tombs and settlement), Katsoulianos (Minoan tombs), Pentalitro (Minoan Acropolis), Katergari Papa Pigadi (Minoan Settlement), Anemomilia (Minoan building), Pirgales (Minoan Villa), Vrisi Hametoulou (Minoan settlement), Limnia or Palaki Mantra Hametoulou (Minoan buildings).
An important peak sanctuary of the Middle Minoan period existed at the Plagia hill but now it is ruined.
The Ziros area is dotted with caves and also other geological features, the most important are: the cave of Agrilia, the cave of Lygias Spilios and the cave of Voevodas. The Ziros area has also many remarkable churches to show with the most important from all the painted church of St. Paraskevi dated back to 1523. The St. Nikolaos church has graffiti dated back to 14th and 15th century.