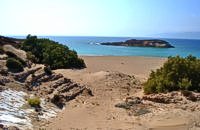 Koufonisi is a small island in the Libyan Sea just off the South East coast of Crete and the Cape of Goudouras.
It is also named LEFKI and gave its name to the municipality.
There is a cluster of small islets in the area like Makroulo, Strogylo, Trahila and Marmara. The island is deserted and in many spots it is covered with sand reminding an African landscape.
Until 1976 the shepherds used to feed their sheep there but it was not inhabited.
Later the Archaeological Offices of Eastern Crete under the authority of N. Papadakis began the excavations and the island proved to be full of ancient sites.
A beautiful theater, made of stones, at the North West end of the island opposite the Marmaras islet was discovered. At the South East of the theater where a settlement was found, a villa with 8 rooms and a guest room was brought to light.
The excavations also showed a workshop where the famous purple robes of the Romans was made. They also dig out an astonishing building, the Public Baths, dated back to 1st and 4th A.D. and ruins of an old temple.
Boats depart daily from Makrygialos to Koufonissi (during the tourist season and only if the weather permits) offering day-trips.