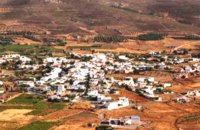 The village of Handras (or Chandras (GR: Χανδράς) is in the Municipality of Lefki at the Armeni-Handras plateau and 27 km from the town of Sitia.
First recorded in a venetian census in 1583 as Candra and Chandra with a population of 399 like today.
Ancient Minoan sites were found at the Plakalonia area as well as at the Gras and Katrani places.
There is a peak sanctuary at the hill of Xykefalo between Handras and Kasteliona at an altitude of 705 m. In spite of its looting a lot of ancient objects were found.
The cave of Panagia Gouda is at the Handra region.
This region includes the communities of Voila, Agios Panteleimonas and Pano Panteli. At Pano Panteli there is an old church the Metamorfosis in which there is an inscription that says: Petro Abramo was here in 1486.