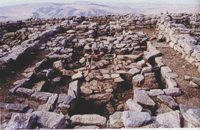 Smari has a very long history and was inhabited, according to reliable sources, from the proto-Minoan period onwards. The archeological relics in the Akropolis of the hill called Profitis Elias, excavated under the direction of the Archeologist D. Hatzi Vallianou, indicate a continuous human presence from the Middle-Minoan period to about 630 B.C.
On the top of the hill, on a field surface of 30 by 40 m. called Troulli, surrounded by a fortification wall, three rectangular constructions matching megaron buildings were excavated as well as a sanctuary of Athina Ergani , courtyards, and additional secondary buildings, all dating back to the Geometric/Eastern period (800-630 B.C.)
Earlier remains dating to the Middle-Minoan/Old-Palatial periods were also found, even though the architectural remains from these periods have not been preserved except on the surrounding wall, which was built according to Pythagorean Theorem.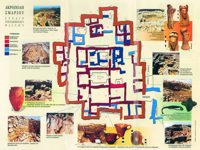 According to the Archeologist-researcher D.Hadzi-Vallianou these buildings were the seat of the local Hegemon (powerful leader) of the area during the Geometric/Eastern periods. The detection of social structures similar to those described by Homer as belonging to aristocrats could lead us to believe that Troulli was the seat of the ancient Homeric Lyttos
Surrounding these buildings on the top of Troulli, excavations have also revealed a few more buildings, store rooms, workshops and one building containing a pyre.
In the wider area of Smari there have also been discovered the remains of ten buildings dating from the Minoan to the Roman Empire periods, the most important of which are the vaulted tomb at the hill of Livaditsa and one Roman rural residence at the entrance to the villa.