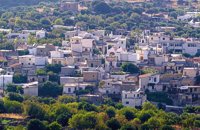 Between OLEROS and OLERIA there is the village Meseleroi, which took its name from the ancient OLEROS. It is situated at 10 km in the north of Ierapetra at an altitude of 360 m. Ancient Oleros flourished during the classical times, to be conquered by thepowerful Ierapytna. Oleria was a place of worship for Oleria Athena, with its famous statue, venerated by the residents of Oleria and Ierapytna.
Ancient buildings can be discerned to this date. The historians report that the ancientcity "Kouris" may also have been situated in the north of the basin of Meseleroi. In Oleros and Oleria that have been important centers of the antiquity, ceremonies and sport events took place in the stadium there and lasted a week. It is said that the residents of Oleria took part in an expeditionary corps against thePersians. However the modern history of the village Meseleroi is also rich.

The Monastery of Vryomeni, of the second Byzantine period was the summer seat of the bishop of "Iera" and an important religious and revolutionary center. The effort made to restore the Monastery by the parish, the cultural association and other organizations makes the Monastery of Vryomeni one of the most important monuments of Crete.

Many historical references and place names show the village's rich history. At the site "Foradomantra" there may have been a stud farm during the Middle Ages. At Kato Prina, a Meseleroi site, a secret school is preserved, next to the Byzantine church of Saint George, a building in which the stone cases for the books can still be seen. Next to the secret school, there is Panagia (Our Lady) Keragrammeni, where the icon was found in a rock in the site "Gourni". An important sight is also the swell in the north of Meseleroi, at "Tou Katsi to Mnima" which has a view to the Libyan and the Cretan Sea.

The natural landscape around the village, the imposing hills, the olive groves,the village's central road, the coffee houses and the two taverns, the church of Saint John, compose a warm, calm, traditional environment. The village has good infrastructures, a school, a cultural center, a library to which the former Quaestor of the Greek Parliament Mr. Kostis Kontopodis, coming from the region,granted his books. This place has bred important men of the arts, the letters and the struggles for freedom.The forest – cultural association, the Athens association of Meseleri natives who publish the "Meseleroi" newspaper, the Parish, the Local Department,strive to embellish and promote the village and its important antiquities.Because of its small distance from Ierapetra, the youths come back, repair the old houses and liven up the village, along with its many visitors, who taste the traditional delicacies every day in the local taverns. The friendly and hospitable residents of Meseleroi, the traditional environment with its many pets, and especially its beautiful little cats that stroll about in the narrow alleys, make this village the village of our heart.