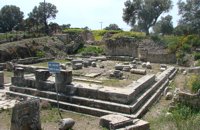 The Temple of Apollo Pythios (Pythian Apollo) located in the center of the ancient Agora, was excavated in 1887 and was the largest temple and the religious center of ancient Gortyn until the introduction of Christianity and the founding of the basilica of St. Titus around 500 AD.
The first building of the seventh century. BC was a four-sided enclosure with four wooden pillars in the center to support the roof. The exterior walls and stairs of the crepis were covered with archaic inscriptions. In the Hellenistic period a monumental anteroom was added while columns with inscriptions were placed between the pillars. Alterations and additions were made during the Roman period. Outside the temple was built a magnificent altar on a stepped base while in the west of the temple was built a small theatre.
In the middle Byzantine period in the vicinity of the temple, which had been abandoned, were built houses and aqueducts.
Many finds have been made in the temple among which the colossal statue of Apollo Pythios and many inscriptions with administrative and law content of the Archaic and Hellenistic period. Dates: 7th c BC; Hellenistic; 2nd c AD.