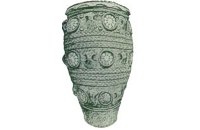 North of the South Propylaeum, at a lower level there is the start of the corridor that joins eighteen long and narrow storerooms, covering an area of 1300 sq.m.
In the floor of both the storerooms and corridor, there are ninety three rectangular cists, the so called "Kasellas". From the finds it appears they were used for keeping safe precious equipment and vases. There are also even larger cists in the corridor, internally lined, perhaps to hold liquids.
The pithoi (large storage jars) of the "West Magazines" bear witness to the wealth of the palace. The remains of some 150 pithoi were found, although there is room for about 400. Their contents are unknown, although they could have oil, wine, pulses, etc.
At different points of the magazine, clay tablets came to light in the Linear B script with records of an economic character. At the north end of the corridor, a large number of older clay seal impressions and clay tablets in the Cretan Hieroglyphic script were discovered.