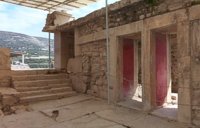 To the south of the Throne Room and the stairs, lies the area that has been identified as a shrine, called by Evans the "Tripartite Shrine" (
Evans's restoration drawing
). Its facade had columns and was divided into three parts, the central element being the highest. There is a depiction of a comparable shrine on a wall painting now on display in Heraklion Museum. Inside the shrine were found clay tablets in the Linear B script and clay seal impressions which were possibly connected with the archive of a shrine.
The remaining areas behind the "Tripartite Shrine" are thought to have been connected with the sanctuaries of the palace. At the back, two small dark rooms with pillars are known as the "Pillar Crypts". The depresions in their floor are said to indicate that these rooms were used for libations. In another room, two large, rectangular, stone-built repositories were found, sunk into the floor. They were full of clay vases and valuable objects, amongst which were the statuettes representing the "Shake Goddess". The repositories have been interpreted as the "Temlple Repositories".
The stairs on the right lead from the Central court to the upper floor of the West wing. This is largely reconstructed by Evans.