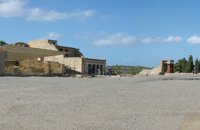 The Central Court (dimensions ca. 50m x 25 m.) is an architectural element common to all Minoan palaces. The Court connects the different wings with one another. There was also direct access from outside the Palace. Part of the paving, which once covered the whole court, is preserved in the northwest and southwest corners, whilst near the "Throne Room", parts of the drainage system can be made out which ensured the evacuation of rain water.
It is thought that the area must have been for meetings and rituals of both a sacred and profane character
The orientation of the Central Court was north-south with a clear view of the sacred Mount Giouhtas, where an important sanctuary was located.