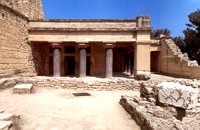 The "Hall of the Double Axes" was so named by Evans due to the double axe signs engraved on the walls of the light-well at its rear. He also thought that it was the place of residence of the King of Knossos.
The central area has openings on three sides and is therefore called a "polythyron" (system with multiple doorways). It has a slab floor and its walls were embellished with gypsum slabs and frescoes. The area between the "polythyron" and the light-well was used as a reception hall. Traces of a wooden construction were found here. Evans reconstructed a wooden throne at this spot.
Pictures
:
1
,
2
According to the archaeological finds, the arrangement of the apartments on the upper floor was similar to those on the ground floor.