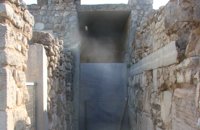 Here is the so-called "School Room", an area where, according to Evans, scribes were taught to write on clay tablets. He supposed that they kneaded the clay in the built mortar next to the bench. It is more likely, however that it was a workshop for ceramics or wall-painting.
Behind the "School Room" is the "Lapidary's Workshop", where blocks of crude or semi-worked lapis lacedaemoniae (spartan basalt) and stone tools were brought to light.
According to Evans, the main workshop lay on the upper floor from which vases and large stone amphora had fallen to the ground floor.