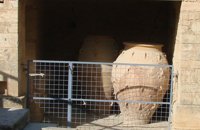 Here the excavators found a number of
very large storage jars (Pithoi)
and Evans named the place the "Magazines of the Giant Pithoi". These magazines are one of the older parts of the palace. The pithoi stand out for their size, the number of handles and the richness of their relief decoration with ropes and discs.
To the right of the magazines a staircase which has been reconstructed by Evans descends to the east entrance of the Palace.
The entrance is a robust construction that gives the impression of a "bastion". From this point it would have been easy to reach an important building of the palatial period, the so-called "Royal Villa" which lies outside the main archaeological site.