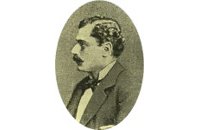 Born in 1843 as the youngest son of Andreas Kalokairinos. Having completed secondary education on the island of Syros, he matriculated at the University of Athens School of Laws and attended for one year, but was forced to abandon his studies after his father fell seriously ill and died. Thereafter his interest turned to his father's estates, which he initially managed together with his brother Lysimachos. Kalokairinos later went into soap manufacture, winning awards at world exhibitions.
Unfortunately, however, his business enterprises were not destined to be successful to the end; in 1895, having taken out numerous loans at exorbitant interest rates and mortgaged all his estates, he was forced to declare bankruptcy and was thus deprived of the right to engage in commerce. In 1903 he decided to resume his legal studies at university, and was later awarded a a degree.
In 1878 his passion for archaeology and classical studies led him to attempt the first systematic excavations at Knossos, which brought the first finds from the Minoan palace to light. These comprised the Kalokairinos private collection, held at the site where the Kalokairinos Mansion (the present-day Historical Museum of Crete) was later built. The finds were destroyed when the first mansion was burnt to the ground during the 1898 riots. In 1869 Minos Kalokairinos married Skevo Kyriazi, with whom he had five children.