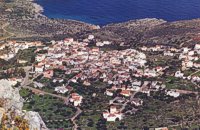 Kókino Horio
(GR: Κόκκινο Χωρίο), which is located at a higher altitude, has maintained its traditional architectural style even more so than the other villages with its narrow roads, beautiful gates and tiled roofs.
A group of cisterns, built in a sloping field, gather the rainwater, an interesting example of local architecture, dealing with the permanent problem of lack of water.
Above Kokino Horio one can see the strangely shaped hill
Drapanokefala
or Calapodha (so named during the venetian occupation). The coastline northwest of the village is an extremely interesting place for a stroll due to the ground formation and the caves, such as the
cave of Petsi
(or Karavotopos).
Another cave called
Katalimata
, located at the centre of the village, is also an interesting site.
At cape Drapano, approximately 10 metres under water, is the impressive
Elephant cave
, an area 60mx60m full of stalactites and stalagmites of various shapes and colours.
Video - The Elephants' Cave