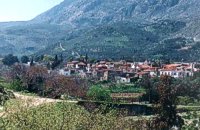 Ano Asites (GR: Ανω Ασίτες) lies 24km from Iraklion and 6km from Agios Myron at 480m a.s.l with 423 inhabitants.
A big part of the surrounding area is covered by forest on the eastern side of the mountain Psiloritis.
Near the village there is the Byzantine chapel of Agios Antonios located in the ravine with the same name a place of exceptional natural beauty. From here passes the
European Hiking Path (E4)
which leads to the shelter "Prinos" ( of the Mountaineering Club of Iraklion - altitude 1100 m a.s.l.) located in a holly (=prinos) forest.
On the south of the village is the ravine of Agios Haralambos and Mihalopotamos (river) where can be found "nyhteridospilios" (= bat-cave) a cave 100m deep with water and plenty of bats.
Other important sights in the area are: the caves "kynigospilios" and "siderospilia" and the perennial oak at Kouvdi.
According to many archaeologists, the ancient town of
Panona
was located here. Around the village there are Roman thermae close to the place where the ancient city of Rizinia used to be.
There is also a cemetery where 680 tombs were unearthed from the Minoan up to the Roman period.
The above findings show that the area played a significant role in the history of central Crete during the ages. The continuous human presence in the area is also proved by the "nekropolis" at the location "Siderospilia" (iron - cave).
The patron Saint is "Agios Ioannis" and there is a village feast on the 29
th
August in his honour.