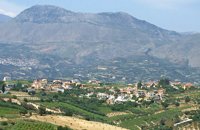 Pentamódi (GR: Πενταμόδι)one of the oldest villages in Crete, is located in the valley of Gazanos river, 17km from Iraklion and 4km from Agios Myron at 350m a.s.l with 278 inhabitants.
At "Agia Paraskevi" a place with rich vegetation are organized every summer a series of cultural festivals.
A fountain of the 15th century with the blazon of the house of "Quirini" is one of the significant monuments of the area.
The patron Saint is "Agios Nikolaos" and there is a village feast on the 26th July in his honour.