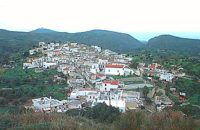 At a height of 320 m above sea-level, Kalo Chorio (GR: Καλό Χωριό) λιεσ 25.7 kms. from Heraklion, to the right at the cross-roads at km 16.7 on the National Road to Agios Nikolaos and on the road to Gouves- Koxare- Kalo Chorio.
The present name does not figure in old Venetian documents, though there is a reference in the 1367 Duke's archives of Chandax to a Kalo Horio, without however naming the district. The villagers maintain that the village was called Stravorina in the old days, and indeed there is a reference by Barozzi in 1577 to a village Stravorina in the district of Pediados. In the 1583 Register, the village Stravorina is mentioned as having 76 inhabitants and in the Turkish census of 1671 Istavrine is quoted as having 21 "charatsa" (A Turkish word referring to a tax paid by the head of each family; hence 21 families). However, Chourmouzis Vizantios in 1842 mentions Kalo Chorio, the present name was therefore given in the decade 1830-1840. The village counted 298 inhabitants in 1981 which is also the current population.
The Maza hill-top, south-east of the village, is 457 metres high. According to archaeologists (among them the famous N. Platon) and on the basis of recent finds, the name Maza comes from pre-Hellenic years and means Mother Earth. The pile of stones on the hill was, according to N.Platon, a town from the 10th to the 8th c. BC. The highest part was undoubtedly used as a shrine in Middle-Minoan years, and clay figurines and offerings were found there. The shrine lay quite close to the town. The shrine stopped being used in Proto-Geometric years.
Northeast of the village, by the country road that leads from Kasteli to Hersonissos, traces of ancient installations have also been found along with remnants of water tanks by a source that is still in use today. These water tanks, probably belonged to Hersonissos aqueduct, parts of which are still visible today in Aposelemi valley.
There is as well an
interesting gorge
close to Kalo Chorio, in the valley of Aposselemis river, worth seeing for nature lovers.