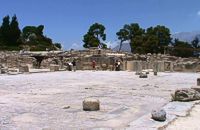 The great Central Court is a basic architectural element of Minoan palaces and the core around which the different wings are set. It was the focus of the economic, social and religious activity of the palace, the setting for events which could be watched from the windows and balconies.
The Central Court of the Palace of Phaistos was built in the time of the Old Palace (1900-1700 BC). It was also used in the New Palace with minor alterations to its orientation and dimensions. It is a rectangular paved, open area with colonnades running along both its long sides, with alternating pillars and columns which supported open colonnades.On the west side of the court, two adjoining rectangular rooms with benches, open on to the Central Court, may have been "sitting rooms" for the spectators watching the events taking place in the Central Court. In the east colonnade of the court, some stone-built benches next to a water cistern may have formed islands of rest and recreation.
The stepped structure in the NW corner of the court may have been an altar for the ceremonies which were held here.
The pithoi (large storage jars) in front of it were found in buildings founded in the site of the Great Court after the destruction of the Palace.