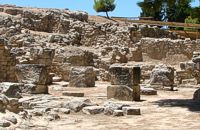 The complex of four rooms on the northeast edge of the Palace does not belong to the Old Palace, although it directly adjoins it. In the westernmost building is an elongated rectangular room with partitions of vertical clay slabs. Similar "cists" in the Palaces of Knossos and Zakros were used to store valuable ritual vessels. Here they were found empty. Next door, in the narrow rectangular room to the southeast, was found a clay tablet inscribed in Linear A and the famous
"Phaistos Disc"
bearing hieroglyphic writing. The building was therefore named the Palace "Archive"
The building east of the Archive is thought to be a shrine or the archivist's residence, while the easternmost building is known as the "Potter's Workshop" because a large number of unfinished pots were found there. The intermediate building has an impressive peristyle of alternating pillars and columns. A staircase on the south side of the peristyle building connects the whole complex to the NE entrance to the Palace, which stood in this spot.