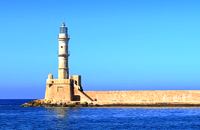 Chania lighthouse, the jewel of the city, is one of the oldest light houses, not only in Greece and the Mediterranean, but also in the world. The lighthouse (Faros GR: Φάρος) is a major attraction in the old port of Chania especially at night when it's lit up. The tower is 21m high and is built on a stone base, located at the end of the old harbour's pier opposite to the fortress of "Firkas". Visitors are not allowed to enter the tower. Chania lighthouse was first constructed by the Venetians around 1595 - 1601, and it took its final form, in the shape of a minaret, during the Egyptian Period (1831 - 1841) in around 1839. After the latest restoration, completed in 2006, it was given the formation of the Venetian period. The minaret look is still evident however. The tower is divided in three diverse parts: the base is octagonal, the middle part has sixteen sides, and the third part is circular. The construction material of the base is of the same origin and quality of the material used for the fortification of the city of Chania by the Venetians.
In 1864, the lighthouse was assigned to the French Company of Ottoman Lighthouses, and during the final years of the Turkish occupation, the staircase of the east side was constructed, in the entrance of the lighthouse tower. Recent renovations include the octagonal watch house with the small dome, and the water pipes under the base of the lighthouse.
The lighthouse is not operational today.