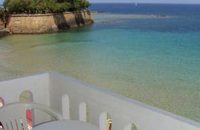 Situated in Chania's Koum Kapi area, Argo Beach Hotel is only 100 metres from Chania's Old Town and Venetian Port. It has an in-house tavern on the ground floor. Argo Beach offers air-conditioned rooms with furnished balconies with sea view. There is a common fridge on each floor that all guests can use.
A leisurely stroll in the area will take you to Chania's cobbled streets and their range of souvenir shops, ouzo bars, cafes and traditional taverns.
Hotel staff and management will be happy to inform and assist you with everything you might need during your stay.
Argo Beach is 12 km from Chania Airport and 6 km from the port of Souda. Free public parking is available next to the hotel.
Hotel Rooms: 9.
Availability & Prices