"I had done this kinda thing before. The pleasure of planning, the virtually neurotic state a week or so before setting off, wanting... no needing to be in Greece... and then... it's over... and for a while you're left with an emptiness... an unfillable void..."


Unfortunately it is not much in the way of a guide for those of you who wish to follow the "E4" (Pan European Footpath Number Four), as I went from slavishly following it, to hoping to find it, to deliberately ignoring it during the five weeks I spent walking the island. Saying that, as soon as I had decided that the E4 wasn't as important as the enjoyment of the walk itself, I couldn't help but find it, the antithesis of those early days when I searched high and low for it. I hope that these pages will point to some of the pitfalls(!) involved, places where one can stay - and more importantly where one cannot - and the joys and frustrations that are an inevitable consequence. For those of you who may wish to do some walking in Crete, there are walks here for all ages and levels of fitness, some of which tested me more than I'd like to admit, but omit those details, I shall not!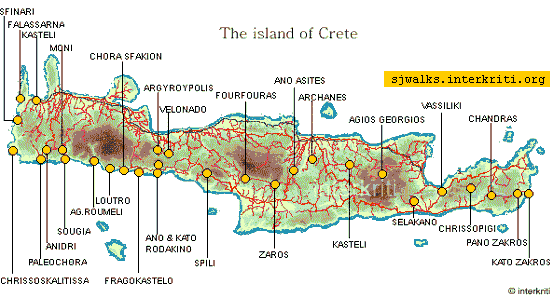 The walk was dedicated to the memory of my Grandfather, William Watson Jackson (1910-2002).
Preface
Chapters
History Boxes
Acknowledgements