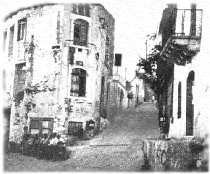 Vrahasi is an old Cretan village, built amphitheatrically at the slope of the mountain Anavlohos (alt. 625m) with an excellent view towards the Lasithiotika mountains and the gorge of Selinari.
It is the seat of the Municipality of Vrahasi and has a population of 525 inhabitants.
The municipality consists also of the following villages/ settlements:

Agia Varvara (40)

Epano Sissi (32)

Kartsinianos (25)

Pirgos (7)

Selinari (23)

Sissi(333)
The communication is carried out through the old national road, that passes through the village. Also the village can be visited through the new national road with a turn to Sisi, Selinari, to the Vrahasi tunnel (length 275 m) or to Agios Nikolaos.
The village of Vrahasi is old, half of its houses (those built on the edge of the cliff) are today uninhabited.
It is built at an altitude of 365 meters, therefore the climate is excellent and has no humidity.
On the mountain Anavlohos, northeast of the village, Cyclopean walls are still preserved. Also, various archaeological items like pots and idols have been found on the mountain. This location was inhabited during the Geometrical period, the findings belong mainly to graves of the first-geometrical period.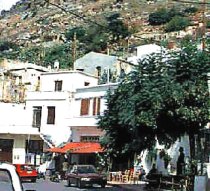 The village is supplied with water by water wells at Sisi and by two traditional aqueducts. In the village of Vrahasi there are a kindergarten, a basket ball court and a library operated by the local Cultural Association.
The municipality of Vrahasi is among the few of the prefecture of Lasithi where the tourist and the agricultural sector of the local economy are equally developing. The main agricultural products of the area are olive oil, fruits and horticultural products, roses, and bananas.
In the beautiful square of Vrahasi the visitor can taste local traditional foods. During the summer (July-August) cultural events are organized by the Municipality of Vrahasi.
Worth visiting nearby places, within the Municipality of Vrahasi, are the coastal village of Sisi, with its beautiful sandy beaches, the gorge and the monastery of Agios Georgios at Selinari, and the temple of Agios Georgios Vrahasiotis.
The temple
of Agios Georgios
Vrahasiotis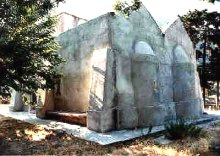 The old temple of Agios Georgios Vrahasiotis is located at the foot of the mountain Selena, opposite of the village of Vrahasi.
The monastery was founded during the second Byzantine period. It was probably destroyed by the Venetians during the 14th century and today only ruins of this first monastery are saved, west of the preserved temple. It was rebuilt at 1540 AD and this date is inscribed in the east side of the bell-tower.
In accordance with the tradition the monastery was destroyed by the Turks around 1770 AD, as a revenge for the death of two Turkish officers that where killed by the abbot of the monastery because they had raped his sister.
The monastery operated again at 1860 AD. The commencement of the revolution against the Turks in 1866 was decided in this monastery.
The first revolutionaries with K. Sfakianakis as leader started from there.