The most important finding from Phaistos is the famous "Disc of Phaistos". Apart from this however a wealth of objects of historical and artistic value were unearthed from the site. Vases, pithoi (jars), figurines, ewers and more, amongst them the unsurpassable "Kamares Ware" pottery.
The majority of the findings from Phaistos are kept in the
Archaeological Museum of Heraklion
and many of them can be seen at its exhibition.
The disc of Phaistos

The disc of Phaistos is the most important example of hieroglyphic inscription from Crete and was discovered around 1903-05 in a small room near the depositories of the "archive chamber", in the north - east apartments of the palace, together with a Linear A tablet and pottery dated to the beginning of the Neo-palatial period (1700- 1600 B.C.).
The disc of Phaistos can be seen at the Archaeological Museum of Heraklion.
Both surfaces of this clay disc are covered with hieroglyphs, arranged in a spiral zone, running from the circumference to the centre of the disk, impressed on the clay when it was damp. The signs make up groups divided from each other by vertical lines, and each of these groups should represent a word. Forty five different types of signs have been distinguished, of which a few can be identified with the hieroglyphs in use in the Proto- palatial period.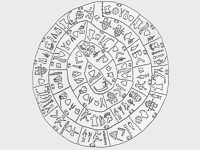 Some hieroglyphic sequences recur like refrains, suggesting a religious hymn, and Pernier regards the content of the text as ritual. Others have suggested that the text is a list of soldiers, and lately Davis has interpreted it as a document in the Hittic language in which a king discusses the erection of the Palace of Phaistos.
Cretan Hieroglyphic script is the first Minoan form of writing. It appeared on seals as early as the late 3rd millennium BC, and its use was standardised in the early 2nd millennium at the foundation of the first palaces. It continued to be in use, having evolved into Linear Hieroglyphic, after the foundation of the New Palaces.

HomeMapThe PalaceThe MonumentsFindingsExcavations