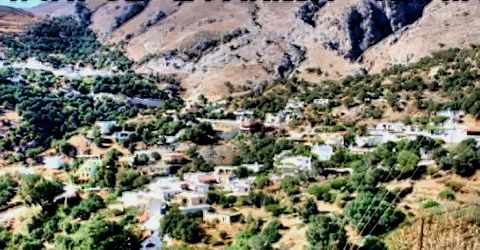 The village is built at an altitude of 780m, and is called Imbros or Nimbros.
The picturesque plateau covers an area of 2,500 sq. meters and has approximately 100 inhabitants that stay in the village from April to November. In the winter time they move to the southern villages. They are mostly stock breeders and farmers and they cultivate walnut trees and grapes that produce excellent wine and raki. The village also produces fine honey.
Most of the time in winter the village is covered with snow. In the village there are taverns where the visitor can taste the traditional Sfakian cooking.
Imbros is a place of great historical value and the birth place of great Cretan revolutioners. It was destroyed in all the revolutions in Crete, at 1770, 1821, 1824 and 1827.
The gorge of Imbros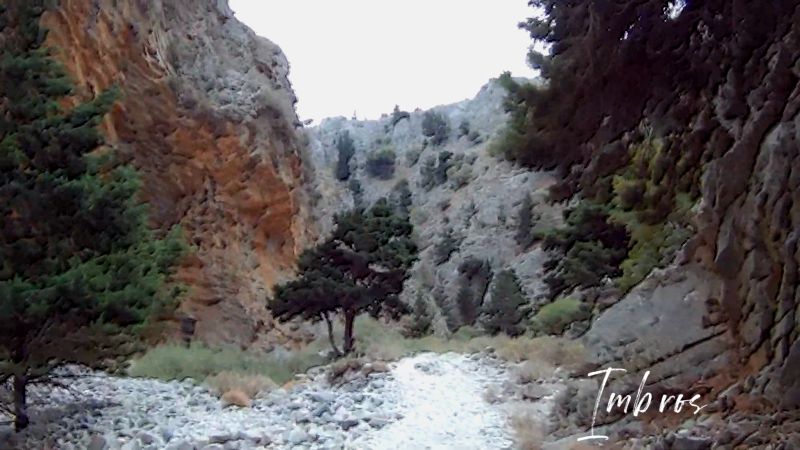 The
ravine of Imbros
begins from the last houses of the village and 8 km after it ends at the village of
Komitades
. Its crossing is smooth and entails no danger. It is easy to access even for those who are not used to long walks. It is accessible throughout the year unless it rains or snows hard. Its entrance is smooth with cypress-trees, holm-oaks, wild fig-trees and wild almond trees.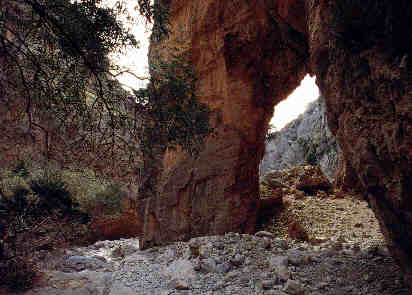 After a while the landscape becomes rocky, and there are many cypress trees and flowers.
As in all Sfakian ravines, it became a refuge for Christians during the Turkish occupation, and a base for revolutioners.
Within one hour walk the visitor reaches the
Mesofarago
where there is a Venetian cistern . At this point during the summer there is one inhabitant of the village with a donkey (to help those that are tired from walking) and with refreshments. The lanscape from here becomes wild with the rocksides being close and vertical. The narrowest width of the ravine is 2 m while the rock sides reach the 300 m. Many caves are formed in its steepy rocks. A path to the right leads to the village of
Komitades
.