At the exit of the ravine of
Imbros
, near the south coast of Sfakia, is the village of Komitádes (GR: Κομιτάδες). It is located at an altitude of 200 m, 68 km from the city of
Hania
and 4,5 km from
Hora Sfakion
.
The area is covered with olive trees and the view to the Libyan sea and the island of Gavdos in the horizon is wonderful.
The village was destroyed many times by Saracene pirates. According to the tradition during one of these attacks the villagers asked the help of
Saint Georgios
(Agios Georgios, GR:Άγιος Γεώργιος) and when the village was saved they built a wonderful church in his honor (14th century) . This church is decorated with exquisite frescoes painted by a famous at his time painter, Ioannis Pagomenos.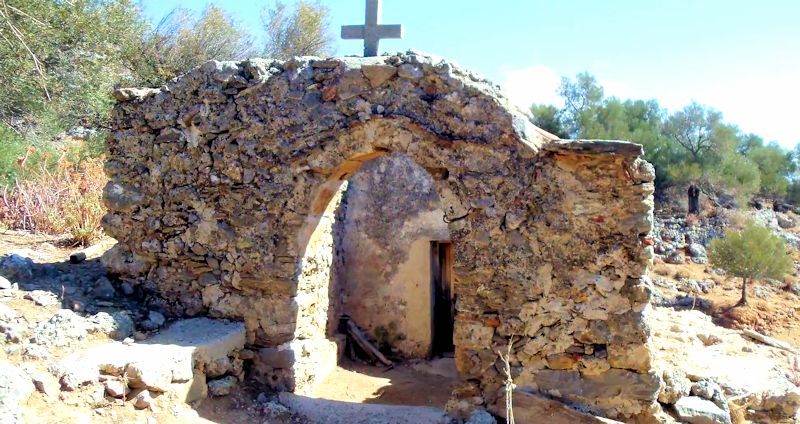 In the past Komitades used to be a big, rich village with many wonderful houses, most of them now deserted, and many of his inhabitants were merchants. Today the main occupation of the people in Komitades is stock breeding and olive oil production. The village also produces excellent honey.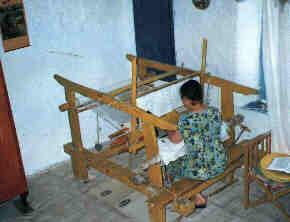 The traditional loom
In the village there are rooms to rent and taverns with traditional Sfakian cuisine. In the square of the village the visitor can buy the famous Sfakian woven and embroidery artifacts and can see a Sfakian woman preparing them on the loom.
Around the village there are many caves. Built in one of these caves, outside the village at the exit of the ravine of Imbros is the chapel of Agios Pavlos.
On the south (400 m of the crossroad Hora Sfakion-Komitades) there is the old monastery of Panagia Thimiani whose church is dedicated to the birth of the Holly Mother. The monastery was first built in 1500, and in accordance to the tradition, it is named so, because the icon of the Holly Mother was found under a thyme bush. The monastery became famous throughout Crete. The Church of Panagia Thymiani is the place where the revolution of 1821 begun, in the 29th of May 1821.