The area of Viannos covers the southern side of mountain Dikti from the small plateau of OMALOS to the beautiful coastline.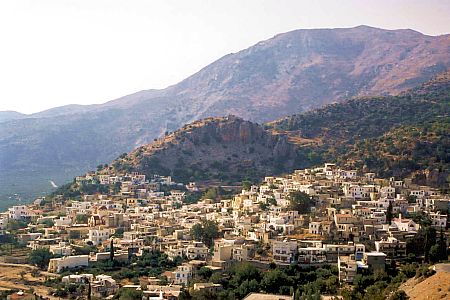 The capital and seat of the municipality is the village of Ano Viannos located 560m above sea level, 65 km away from Iraklion and 40km from Ierapetra (to the east).
All the mountainous area with the villages Loutraki, Kato Viannos, Hondros, Vahos, Amiras, Agios Vassilios, Kefalovrissi, Pefkos, Kalami, Sykologos, Ano Symi and Kato Symi, is of outstanding natural beauty. Most villages still keep the old traditional architectural style while a good number of old churches - some with well preserved frescoes - can be found.
Small ravines with running water and rich vegetation is another characteristic of the area.
The main product of Viannos is its unique and famous
olive oil
. Recent years, Arvi, Psari Forada, Keratokambos and Kastri, the small settlements of the coastal part have prospered due to the cultivation of early vegetables and bananas.
They also
attract many visitors
during the summer time. There are quite few rooms and apartments for rent, hotels, taverns with fresh fish, shops etc.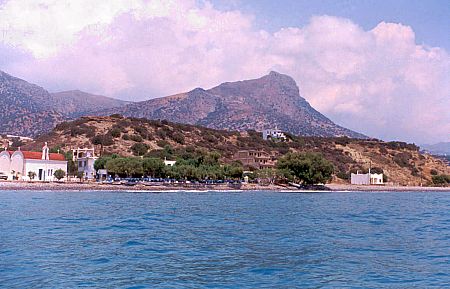 The coastal area does not fall short in natural beauty. The gorge of Arvi with its 454m high walls, the 200m long cave "Vigla" with stalagmites and stalactites located at the top of the hill "Kerato", long sandy beaches, small secluded coves are some of the many attractions.
Viannos history goes back in the mythical ages. Its name is supposed to come from "Viennos" one of the "Kourites" (men who, in ancient times, lived in Crete and used to bang their arms and their shields together in order to cover Zeus cry - the Greek word "krousis" implies this). Other believe that the name comes from the fight (via = violence) of two of the Kourites, "Otos" and "Efialtis" - sons of Poseidon - against Aris, the god of war.
There are myths and legends about almost every place in Viannos. Toponyms such as "tou' piskopou to pidima", "tou listi" etc have their own history and every one of the locals has its own version about them.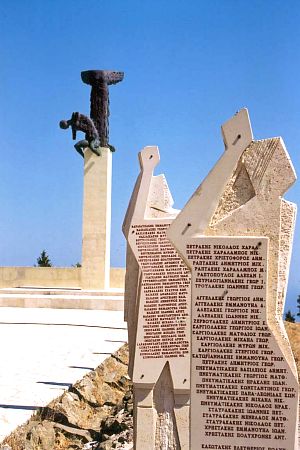 Many findings prove that Viannos was a strong city during the antiquity, with its own coins and allies.
During both the Turkish and German occupation the people of Viannos added golden pages in Crete's struggle against the invaders. A nice - one of a kind - memorial stands at Amiras to remind the sacrifice of "Viannites" and the holocaust of September 14 1943, when 358 men, women and children were executed and many villages were burnt after the strict order of the German commander " DESTROY VIANNOS COUNTY".
Viannos has also a long tradition in literature and science. Ioannis Kondilakis (1862-1920) a famous journalist and novelist was born in Viannos and its novels "Patouhas" and "when I was a teacher" are still among the most interesting in New Greek literature.
Viannos photographs:
more photos from image library