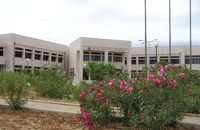 A modern competitive organisation, IMBBC (part of the Hellenic Centre for Marine Research - www.hcmr.gr) is widely recognized as one of the leading institutes in the Mediterranean. Its installations are located at Gournes, near Heraklion, Crete, where its laboratories, administration, library and conference facilities cover 1.500 m2. It has a wide range of state-of-the-art facilities needed to carry out its basic and applied research.
The Institute of Marine Biology, Biotechnology and Aquaculture (IMBBC) is one of the three institutes of HCMR. The institute was created by the merging of the Institute for Aquculture (IA) with Institute for Marine Biology and Genetics (IMBG) in 2012.
Research Directions
-Genetics and molecular biotechnology
-Biodiversity and Ecosystem Management
-Aquaculture
Services
-Aquaculture
-Environmental Services
-Genetic Services
-Microtomography
More...