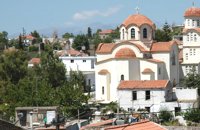 Apostoloi (GR: Αποστόλοι) is a village in the area of Kasteli, 360 m above sea level. It has about 490 inhabitants, and is located on the 32 km of the road leading to Kasteli in the NW part of Apostolianos Kampos, among vineyards and olive groves.
Until recently tannery was a main activity among the villagers.
The earliest reference to the name is to be found in a contract drawn in 1279, where Sancti Apostoli et Sophoro were lands belonging to the Venetian lord Leonardus Gradonicus, who gave them and leased them to Petro Quinino. There is another mention of the name in a document dated to 1378.
It is also quoted by Fr. Barozzi in 1577 as forming part of the Pediada district.
The name of the village finds its origins in the name of an old church dedicated to the Saint Apostles. The present church was built on the same site in the 19th century, in 1876. The church of Agios Giorgos is Byzantine and has wall paintings.
According to village tradition, on the night of Easter in 1841, the Turks caught the Cretan leader of the revolution for the Eastern part of the island, Giorgos Vassilakis, or Vassilakogiorgi and hanged him from a fig tree.The village kapheneions serve particularly good raki and on June 29th there is a great feast in the honour of the Saint Apostles, Peter and Paul.