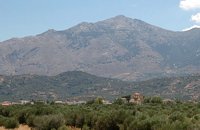 330 m above sea level, just out of Kasteli (1.5 km) to the east, lies the village of Archangelos (GR: Αρχάγγελος) with 433 residents.
It was founded in 961 by the military forces of Nikiphoros Phocas and was originally named 'Varvaro', and was still known by that name in 1583, where the Chandax Register puts it down as a village of the Pediada district with 37 inhabitants.
Its name was changed only recently, in 1961, to Archangelos, and the main village church in the square is dedicated to the Archangel Michael. There is another smaller and older church, that of the Panaghia, with Byzantine wall paintings. Remains of ancient mills can still be seen.
In a location known as Trochalos, archaeological finds have brought to light a series of Minoan tools dating back to the first and second Late Minoan periods.
As in every Cretan village, raki and 'mezedes' are always available at the kapheneions.
The feast of Michail Archangelos on November 8th is celebrated with much feasting in the village.