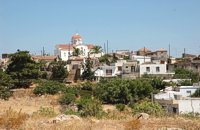 Evangelismos (GR: Ευαγγελισμός) at 360 m above sea level, with 365 inhabitants, lies to the SW of Kasteli, distant only 5 km from the county town and about 35 km from Heraklion.
In earlier years, the village was called Mouktari or Mouchtari and its name figures in a 1381 contract for the buying and selling of grain.
The Byzantine church of the Panagia is worth a visit. On August 6th the village celebrates the feast of the Metamorphosis.
Evangelismos is the seat of the newly (2010) created municipality, according to the National "Kallikratis Project", by uniting the former municipalities of Kastelli, Thrapsano and Akalochori. The name of the new municipality is "Minoa Pediada"