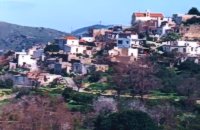 Bizariano (GR: Μπιτζαριανό) is a traditional small village of about 24 inhabitants in the area of Kasteli Pediada, 320 m above sea level and about 3 km to the north of Kasteli on the road to Hersonissos.
A pretty village with stone houses, graphic lanes and courtyards covered in flowers.
It is first mentioned in 1881, as Bizariano, Municipality of Kasteli, with 55 Christian inhabitants. In 1951, it changes its name to Pigi. Its first name is that of a family, Bizariano. Close to the village, in a beautiful spot full of lush vegetation, evergreen plane trees and gushing water, stands the ancient church of
Agios Pandeleimonas
, with its three naves.
Two rows of arches supported by columns without capitals separate the naves. Another column is made exclusively of capitals, apparently brought in from other churches or temples. Practically all the middle outside wall is decorated with inscriptions, Byzantine reliefs and crosses.
Agios Panteleimon (External)
Agios Panteleimon (External)
Agios Panteleimon (interior)
The artistic highlight of the church of Saint Panteleimon are its fresco scenes painted on the walls which are among the oldest in Crete, although very few frescoes remain. In the lower section of the arch, there is the representation of the three Hierarchs, shown on full length, with vertical inscriptions on it. On the two side walls there are the representations of Saints in a colossal size. These scenes were designed to be a source of biblical education to the faithful, who would have been illiterate at that time.