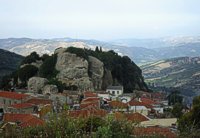 Agios Thomás (GR: Αγιος Θωμάς) lies at 530 m above sea level. It is 30 km away from Heraklion and has a panoramic view over the whole area to the SE of Aghia Varvara.
Agios Thomas is a very old village and the first reference we have of it, is in a document of 1371, where it is quoted as a feudal property of Petrus de Medio, and again in a document dated 1380. Later, it figures in all the Venetian censi of the 16th and 17th centuries. In 1881, and in 1900, it figures as part of the Megali Vrisi municipality, with 344 inhabitants. From 1920, it figures in all the censi as a community with a continuously growing number of inhabitants. Nowadays there are over 800 inhabitants.
Agios Thomas owes its name to the tripartite domed church, which still preserves part of its original wall paintings. The north nave is dedicated to Saint Nicholas, the south one to Saint Charalambos and the centre one to the patron saint, Saint Thomas; the church is located in the centre of the village.
Of the 40 churches that are said to be in the village, the visitor should make a point of visiting the following: Aghia Paraskevi, with remains of wall paintings, Michail Archangelos, with wall paintings of the 12th century, Aghios Panteleimonas, Aghios Ioannis, and the chapel of Panagia Kardiotissa at the lovely site of Mouzouras.
There are a great many caves and cisterns cut out of the rock in the area; the caves were used as graves.The village of Aghios Thomas boasts of two great personalities born there: Kirikas Chairetis Kalamaras and the empirical doctor and fighter Logios, born in 1771. He fought the Turks from 1800 to 1815. He is buried opposite the ancient town of Phaistos.
The small settlement of Ardachtia or Argathia, lies 500 m from Agios Thomas. The name Argathia figures in all the Venetian censi of the 16th and 17th centuries. As of 1881, through a mistake in the spelling, it is recorded as Ardachtia. On the verge of collapse, the village was abandoned and has been rebuilt as a neighbourhood of Aghios Thomas, at Plaka.