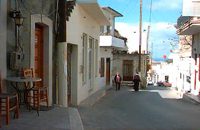 Pano Gouves (GR: Πάνω Γούβες) is a village of the district of Pediada in the prefecture of Iraklion at a height of 100 metres above sea-level. It lies twenty kms away from Iraklion, to the right at 17.3 kms on the National Road to Aghios Nikolaos. The village is built on the western flanks of the Ederi hill (322 m.). The name comes from "edera" which means ivy and symbolises affection.
The name Gouves, on the other hand, comes from Gouva and means a hollow in the earth. It also means, in Crete, a hole in which during the middle ages, people stored their wheat.
The earliest reference we have of the village is that of "Guves" in 1387 documents of the Duke's archives in Chandax. Later on, in 1577, Fr. Barozzi mentions "Guvos" in the district of Pediados, and then "Guves" in the 1583 Register, with 252 inhabitants. Finally, in 1630, Vassilikata refers to "Vuves'.
This is the birthplace of the poet Ioannis Konstantinidis.
There are several outstanding churches in the village, among them: Zoodochos Pigis, Aghios Giorgos, Aghios Ioannis and Panayia (dedicated to the birth of Our Lady).